Extra Curricular Activities
Clubs and After School Activities
Coloma boasts a large number of clubs and societies. These are a mixture of teacher and 6th form led activities which take place both at lunch times and after school. Current clubs and societies include:
Music Clubs/Groups
Comtact the Music Department for further details
Strings Groups
Wind Groups
Percussion Ensemble
Choirs
'Top Brass'
Guitar Ensemble
Orchestra
Ukulele Ensemble
Plainsong Group
World Drumming Group
Gospel Choir
Jazz Band
Sports Activities
Contact the PE Department for further details
Dance Club
"Ski Fit"
Football
Netball
Lacrosse
Trampolining
Gym Club
Tennis
Rounders
Athletics
Fitness
Language Clubs
Contact Mr Handley, Head of Modern Languages for further details
Other Clubs & Societies
Contacts for further details as individually listed
Combined Cadet Force (Mrs Greenwood- PE Department)
Duke of Edinburgh Award
SVP Group (6th Form)
Puzzle Club
Public Speaking & Debating Society
Drama Club
Science & Engineering Club
Biology Club
Art Club
Prayer Group
Chess Club
Trips and Visits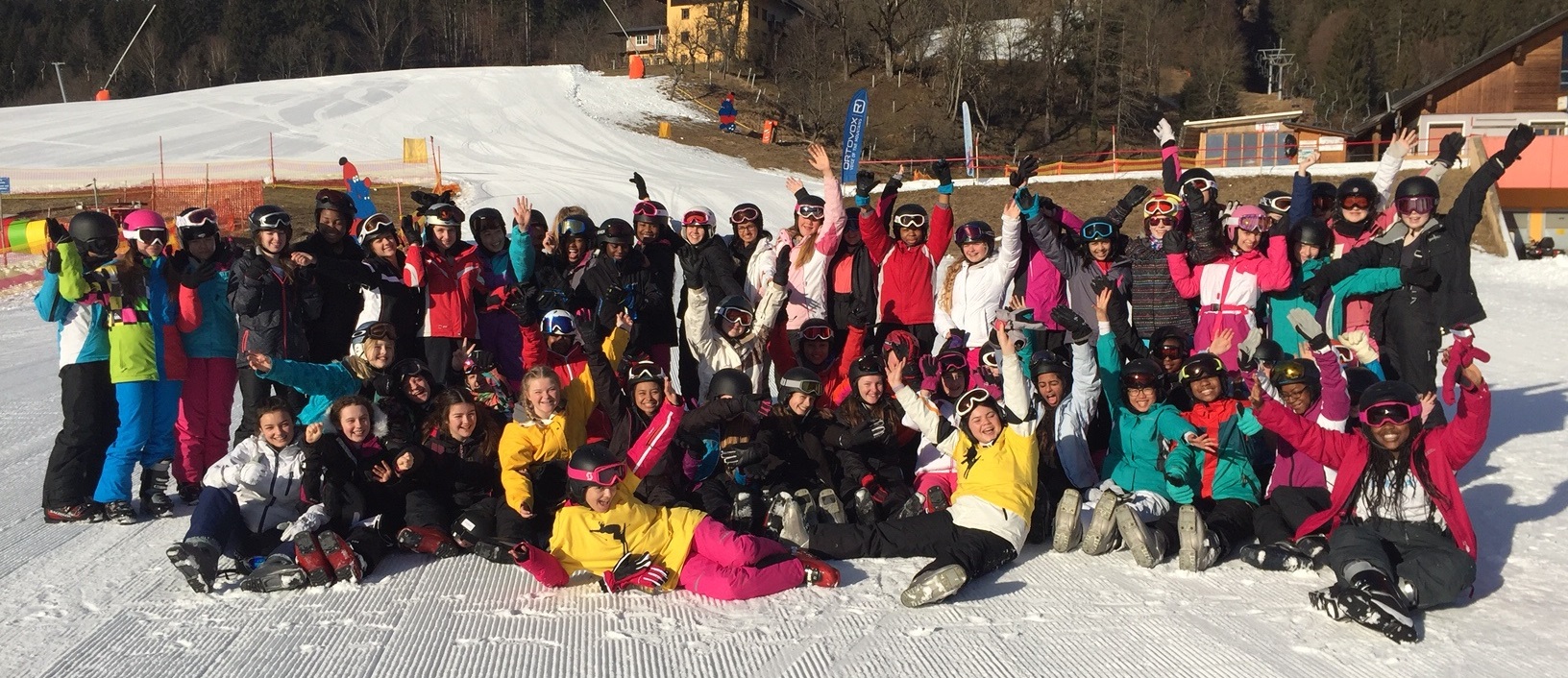 At Coloma we have an extensive programme of educational trips and visits throughout the school year both local and abroad. Recent trips have included places as diverse as France, Germany, Spain, Italy, Berlin, Paris and Lourdes. Each is designed to enrich pupil and student learning within their subjects and provide a framework for the rounded development of the individual with regular visits organised to exhibitions, conferences, theatres, galleries and museums in addition to the specific focus of the visit.
You will find a wealth of information, news articles, and photo galleries throughout our website which demonstrate our commitment to providing our students with the opportunities for personal as well as educational growth and exploration. As you can see from the list below of just some of the trips the girls have the opportunity to go on, life at Coloma is never dull!
6TH Form HCPT Pilgrimage to Lourdes
Yr 9 Ski Trip
Year 10 & 11 Wild Bush Camp
Year 8 Visit to St. Omer and Boulogne
CCF Survival Weekend
Cadogan Hall RPO Concert
Netball trip to Shropshire
Duke of Edinburgh Expedition - Dartmoor
Pre U Business Studies Visit to Caterham Cars
Yr 8 Salters Festival of Chemistry (South Bank University)
Year 9 WW1 trip to Ypres
6th Upper - Business Studies trip to Birmingham University
Yr 7 trip to Bodiam Castle
Plainsong weekend - Isle of Wight
Yr 9 CCF Camp Crowborough
Yr 12 Royal Society Summer Science Exhibition
Music for Youth competition trip to Birmingham
Junior Special Choir - Voice in a Million - Fairfield Halls
Yr 12 Government & Politics trip to the Supreme Court
Yr9 Big Bang Fair
Yr 12 Food visit to Borough Market
Yr 10 Spanish Trip to Bilbao
Drama Trip to Edinburgh Fringe
Liturgies and Retreats
Yearly retreats are organised at the Emmaus Centre in West Wickham. The retreats are facilitated by the Sisters of the Congregation of the Daughters of Mary and Joseph and always prove to be an enjoyable experience that give the girls a chance to spend a day reflecting and meditating on God's love for us and on the richness of our lives. You'll find a link to the Emmaus Centre in our Forms and Downloads section. In November 2012 Coloma experienced a whole school mission organised by the Sion organisation.
Worship at Coloma Convent Girls' School is an integrated part of the school day. Every day begins with an act of collective worship, which may take place in the tutor group or whole school assembly. Each lesson starts with a prayer.
The school chapel on site offers a weekly Mass on Tuesdays at 12:20pm which is organised in turn by tutor groups. Parents are always most welcome to attend this Mass and Benediction which is held on Fridays at 3:20pm for students who wish to attend. A special Mass is held at the end of each term in addition to a number of special services which are held throughout the year.
Combined Cadet force
Since September 2009, Coloma students have joined forces with cadets at Royal Russell School for weekly meetings of the Combined Cadet Force (CCF).
What is the CCF?
The CCF Contingent is a voluntary School activity and youth organisation. Cadets follow a one year course in basic cadet training and then in Year 10 opt for either the Army or RAF Sections. Weekly parades are held on Monday evenings between 7pm and 9pm at Royal Russell School
Skills and Qualifications
By Joining in with CCF activities Coloma pupils benefit not only from the fun and enjoyment they provide but also from the opportunities to acquire life skills and qualifications such as in First Aid.
The regular activities of camps, courses and expeditions are excellent at building confidence and enhancing personal development and reflect well Coloma's ethos with their emphasis on commitment, responsibility and teamwork.
The Programme
At commencement Cadets follow a one year course in 'Training Squadron' where they participate in a range of military-style training activities such as drill, fieldcraft and weapons training. Students also have the option to attend annual camp on a military base and to take part in other local and national events.
In their second year of CCF, students choose between the Army and RAF sections of the contingent. Cadets have opportunities to fly with Air Experience Flights and those in the RAF Section can achieve gliding qualifications.
All cadets follow prescribed courses relevant to their length of service and qualification level. Some camps (e.g. Annual Camp) are obligatory; but most camps, courses and competitions are optional extras, although cadets are encouraged to attend. Adventure training is an important component of the offering made and includes skiing, rock climbing, hill walking, kayaking and scuba diving.
Learning More
Coloma are delighted to be continuing to join with the Royal Russell Contingent and pupils who wish to learn more about the CCF and its activities should contact Mrs Greenwood in the PE department at Coloma. You can find a link to the Royal Russell Contingent web pages in our Forms and Downloads section.